The Zionists destroyed the homes of the poor Jews, herded them into concentration camps by proxy and them on ships to the unknown Palestine just to to do the same to the Palestinians. Has there ever been a people more evil than the Zionists? I don't blame the European Jews so much.


Israel - In 1958, then-foreign minister Golda Meir raised the possibility of preventing handicapped and sick Polish Jews from immigrating to Israel, a recently discovered Foreign Ministry document has revealed.
"A proposal was raised in the coordination committee to inform the Polish government that we want to institute selection in aliyah, because we cannot continue accepting sick and handicapped people. Please give your opinion as to whether this can be explained to the Poles without hurting immigration," read the document, written by Meir to Israel's ambassador to Poland, Katriel Katz.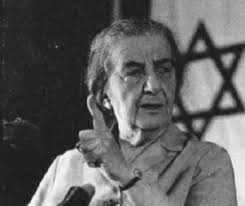 The letter, marked "top secret" and written in April 1958, shortly after Meir became foreign minister, was uncovered by Prof. Szymon Rudnicki, a Polish historian at the University of Warsaw.
Rudnicki has been researching documents shedding light on Israeli-Polish relations between 1945 and 1967. The document had not been known to exist before this time, and scholars of the mass immigration from Poland to Israel that took place from 1956 to 1958 were unaware of Israel's intent to impose a selection process on Jews leaving Poland - survivors of the Holocaust and its death camps.
The "coordination committee" Meir refers to was a joint panel consisting of representatives of the government and the Jewish Agency.
Rudnicki concedes that the content of the document surprised him as a scholar and a Jew. "This is a very cynical document," he said. "It is known that Golda was a brutal politician who defended interests more than people." Katz died more than 20 years ago, and no proof has been found that anything was done regarding the foreign minister's query.